Raiders throw, run past 'Cats
Friday, September 14, 2012
The Nettleton Raiders used a balanced offensive game to post a 48-0 win over Trumann this past Saturday at Wildcat Field. The game was postponed from Friday night due to the storm that moved through the area. The Raiders scored four times rushing and three times passing.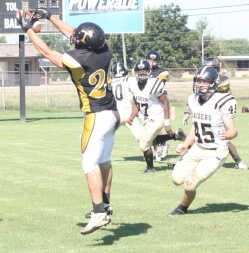 Nettleton scored on a 76-yard pass and 60-yard run to go up 14-0 after the first quarter of play. The Raiders added two more scores it the second quarter on a 29-yard run and a 45-yard pass to take a 28-0 lead in to halftime.
Nettleton tacked on two more scores it the third quarter on a one-yard run and 15-yard pass. The Raiders final score came late in the game on a 15-yard run.
"We've got to go back to the drawing board, our line and backs have to block," Trumann Coach Greg White said about his team. "I still believe in this football team and in the players on this team," White added.
Tevin Bradley was a bright spot for the Wildcats recording 15 tackles from his linebacker spot on defense.
Trumann will host Earle Friday night. Kickoff is set for 7.