Warriors power through Lions
Friday, September 14, 2012
The EPC Warriors shined on both sides of the ball this past Monday night as they hosted the Lions of Manila and posted a 46-0 victory. The game was moved to Monday due to the storms that came through Friday night.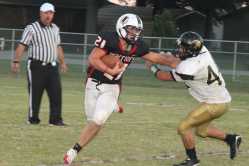 The game resumed with EPC up 7-0. Trevor McDaniel scored on a four-yard run in the opening quarter and Blake Carter added the point after. The quarter ended with the score still 7-0.
Aaron Scales scored on a one-yard keeper with 9:15 left in the second quarter with Carter again making the point after to put the score at 14-0. Tristan McDaniel caught a 15-yard pass from Aaron Scales for the Warriors next points. Carter was again good on the extra point to make the score 21-0 EPC with 5:01 left before half. Caleb Harston scooped up a fumble and returned it 60-yards for a score with 41 seconds to go before halftime. Carter adds the extra point to send EPC to the half with a 28-0 lead.
Aaron Scales hooked up with his brother Byron Scales for a 23-yard touchdown pass with 6:20 left in the third. Carter's point after was blocked leaving the score 34-0. Byron Scales added his second touchdown of the game with a nine-yard run with 1:44 left in the third. The extra-point was again blocked setting the score at 40-0.
Harston scored the final points of the night as he took a handoff and scampered 19-yards for the score with 10:15 left in the game. The two-point try failed making the score 46-0.
"I was pleased with the execution of the team tonight," Coach Brian Weathers said after the game. "We flew to the ball on defense," Weathers added.
Harston led a balanced ground attack with 78 yards rushing. Trevor McDaniel added 77 yards and Jammar "Mookie" Sturdivant chipped in 55 yards. Aaron Scales threw for 71 yards hitting on five of eight passes with two touchdown passes.
Harston and Byron Scales both had 12 tackles on defense.
The Warriors will travel to Hazen this week. Kickoff is set for 7.