ASU professor involving students in biofuel production
Friday, September 14, 2012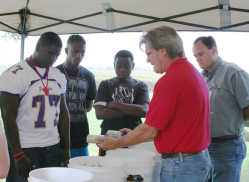 Old vegetable oil used in restaurants doesn't have to be thrown out. Dr. Kevin Humphrey, assistant professor of Agricultural Education at Arkansas State University, and his students have started manufacturing biodiesel from waste vegetable oil.
Dr. Humphrey and his students first started their lab in 2008. Using a system housed at the ASU farm, Humphrey can refine seeds into meal for livestock and vegetable oil, and waste vegetable oil can be processed into biodiesel and glycerin.
"The students have been involved all along the way with planting, processing, analyzing byproducts and making larger quantities of biodiesel," Humphrey said.
In 2010, they started producing products. Humphrey displayed the wide range of the byproducts he and his students had produced--from cottonseed, soybeans, peanuts, canola and camelina--at the recent Judd Hill Cotton Field Day.
Humphrey said that one of the byproducts that comes from making biodiesel out of waste vegetable oil is glycerin, which also has many uses. After glycerin is cleaned and processed "you can use it for soap products or sell it in bulk for industrial level products as a lubricant," Humphrey said. "You don't have to worry about how to get rid of it."
The system that processes the waste oil fits into a trailer, and the entire setup can be done in a 24 by 24 foot area. Humphrey said it was an efficient use of space and that he was looking at how farmers could use the system to gain supplemental income and how to open up some new markets.
Since 2010, Humphrey said biodiesel production has picked up, and he hopes it will continue to improve as he works to raise awareness about what can be done with plant-based products.