Trumann city council hears about home improvement program
Friday, September 14, 2012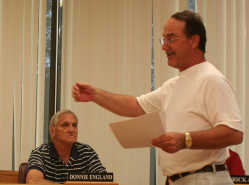 The Trumann City Council heard from Paul Jones of Jones Consulting at this month's meeting regarding the Arkansas Development Finance Authority's home improvement program.
Jones said that the ADFA distrbutes funds throughout the state that can be used toward refurbishing houses or demolishing and rebuilding houses that are ready to be condemned. Cities that find a minimum of five homeowners that qualify for the program can be awarded up to $450,000 to fix up the approved homes. The grant money is meant to help low income homeowners who own their property and have been living there at least three years.
"It brings funds into a town," Jones said. "It's a good way to stabilize economies and help people at the same time."
The council approved beginning the process of searching for individuals who qualify.
Mayor Sheila Walters said at the meeting that she and the council members had been served with lawsuit papers Tuesday. The lawsuit brought against the council is on behalf of former Trumann police officer Erik Willbanks, whose termination was approved by the council earlier this year after an investigation into former police chief Tony Rusher's abuse of prescription medication.
In other business, the council:
*authorized the mayor to start accepting for 1,900 tons of asphalt. Mayor Walters said a bond from 2009 with $180,000 in it needs to be spent and that it will be spent on asphalt for street repairs and two new vehicles needed to replace city vehicles for the street crew.
*approved the appointment of Cecillia Parker to the Planning and Zoning Commission.