Arnoult charged in Trumann deaths
Friday, September 14, 2012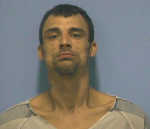 John Anthony Arnoult, 28, of 1610 Arrowhead Pond Road, Jonesboro, was arrested Sept. 9 after investigation by the Trumann Police Department and Arkansas State Police into the deaths of Constance "Connie" Cole, 56, and John Poff, 57, both of Trumann.
Cole and Poff's bodies were found on Sept. 2 in Poff's home in the trailer park on Viva Drive by a maintenance worker who performed a welfare check after neighbors reported hearing gunshots at 6:15 a.m. that morning and seeing a red truck drive away.
According to Arkansas State Police, Cole and Poff suffered from blunt force trauma wounds and gunshot wounds from a 40 caliber handgun. Police were led to Arnoult after interviewing witnesses and Arnoult's family members, who told police they owned a red Nisson pickup truck and a 40 caliber handgun that was missing.
Poff is listed in the National Sex Offender Registry as a level 2 sex offender.
The matter is still under investigation, though police are not pursuing other suspects at this time.
Arnoult is being charged with two counts of capital murder. He is being held without bond. Court date is Oct. 29.