Former Jonesboro mayor talks literacy at Lions Club
Friday, September 21, 2012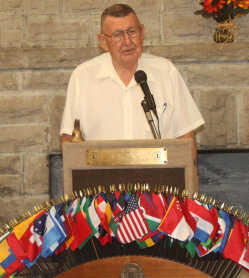 Hubert Brodell, former mayor of Jonesboro, and Phyllis Rambin, director of the Literacy League of Craighead, Greene and Poinsett Counties, were the guest speakers at the Trumann Lions Club weekly meeting on Sept. 12.
Rambin said the Literacy League was established in 1989 as the Crowley's Ridge Literacy League that served Craighead county. Trumann had a league at one time but had to close due to lack of funding. Poinsett County residents had to drive to Craighead at one point to participate in the program.
Rambin said the Literacy League is coming back to Trumann and has set a date of Oct. 1 to be open. There is a need for the league as she told the state average for illiteracy is 14 percent with that growing to 24 percent in Poinsett County.
There are three adult education centers in Poinsett County, but they accept those with a sixth grade education or higher. The Literacy League will be open to anyone 18 and older and will get one on one help, working at the pace of each individual.
Brodell thanked Mayor Sheila Walters, Betty Payne and Neal Vickers for all the help they have given getting this new league to Trumann.
Brodell said he saw first hand the effect illiteracy had with the employees he worked with during his years in office. There were lots lost jobs because applicants couldn't fill out an application and lots told of how they couldn't help their children with their homework.
Brodell worked to get a lot of those in school and get the training they needed. "I decided then that when my time in office ended, I would dedicate the rest of my life to help with literacy," Brodell said.
Having only an eighth grade education, Brodell served 18 years as mayor. Brodell got his general equivalency diploma (GED) when he was 78 stating, "If I can do it, anybody can!"
"We've got to have determination and help to make this work," Brodell added.
Having secured a location with the utilities provided, Brodell believes there is an interest here for his program.
Brodell ended by saying, "We need volunteers to help with this and I'll be right there with you!"
Anyone with questions or needing help in any way may contact Phyllis Rambin at 870-910-6511.