Book recounts lives of Dabney's parents
Friday, September 21, 2012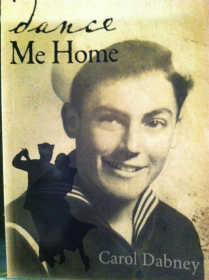 When Carol Dabney set out to write the book Dance Me Home three years ago, she started with the intention of writing about her father's military career. But from there the book grew to tell the life stories of both her parents and the story of America during their lives.
Dabney's father, Robert Jones Jr., was born in 1924 during the Great Depression and grew up on a farm in Texas picking cotton and milking cows. He served in the Navy during World War II and met Dabney's mother, Wanda, at a USO dance. Wanda was born in Havana to a Cuban mother and a Cherokee Indian father and moved to the U.S. when she was eight.
After the USO dance, "My father went to war, but he couldn't stop thinking about her," Dabney said.
The book, which Dabney wrote as a family history for her children, details her parents' childhoods, her father's war service and their lives following the war, including her father's struggle with post-traumatic stress and alcoholism.
"Because of the war and post-traumatic stress disorder, he began drinking," Dabney said. "He was an alcoholic for 15 years of his life and had a dramatic conversion to Christianity. He stopped drinking, and my parents moved from California to Arkansas. It saved their marriage."
The book ends with her father in a nursing home with Alzheimer's. Dabney said her father was an unusual patient and she wanted to write about the humorous part of Alzheimer's. "I read parts of the book to them in the nursing home," Dabney said, "and he would get so tickled he would slap his knee and say, 'I had no idea I was so interesting!'"
She added that when she read sections of the book to them on their 65th wedding anniversary, her mother had said, "What about me?" and told her story of how her father proposed. "If I hadn't read the book to them, I never would have heard that story," Dabney said. At that point, she decided she should write about her mother in the book too.
Other highlights include the story of how her father passed up the opportunity of a lifetime to have his spring water bottled because, he thought, no one in their right mind would ever buy bottled water and the story of the time he saw a man walking down the road who Carol recognized as a UofA professor, fixed his car, ate a cheeseburger with him and learned he was Bill Clinton.
Dance Me Home is available through amazon.com and the restaurant Southern Style TV Dinners at 302 Elm Street in Marked Tree. Dabney will also be selling and autographing copies at the Cotton Pickin' Jubilee in Marked Tree on Sept. 29.
Dabney is an author, singer-composer and painter who lives and works in both Arkansas and Hawaii. Her first book was a children's book titled Military Mommy about her daughter, Lieutenant Melissa Dabney, her grandson, Noah, and their lives on an Army base in Hawaii.