Roach Manufacturing plays a supporting role in the Disney movie
Friday, September 21, 2012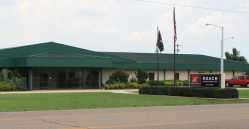 In late 2010 Roach Manufacturing was contacted by Green House Pictures, Inc. to provide conveyors for the Disney movie, The Odd Life of Timothy Green. The conveyors were to be used as part of the props in select scenes in the movie. The application was discussed with the Sales and Engineering Department and the conveyors were shipped in time for filming February 2011.
Charlie Parks, vice president of Engineering and Sales at Roach Conveyors, was involved in the project and worked closely with the sales, engineering and production to provide the customer with the appropriate conveyors.
Charlie passed away August 2012 and did not get to see the movie but would have enjoyed it very much, a spokesman for the company said. He loved his work and loved his family, so to see a family movie that included Roach conveyors he would have made him very proud.
The Odd Life of Timothy Green is currently playing in the theatres. The movie is about a childless couple who bury a box in their back yard containing all of their wishes for an infant. Soon, a child is born, though Timothy Green is not all that he appears.
The belt conveyors are painted the signature "Roach Green" color and are part of the opening scene of the movie. Additionally, there are also a few other scenes throughout the movie that include the conveyors.
Roach Manufacturing is located in Trumann and employees over 200 people in Northeast Arkansas. They produce a broad product lineup of package, pallet and floor conveyors that are shipped to manufacturing and distribution centers all over the U.S., Canada and Mexico.
Although the scenes are brief, Roach Manufacturing is proud to play a supporting role in this wonderful "feel good" movie by Disney.