Gazaway, Boling talk prosecution to Lions
Thursday, September 27, 2012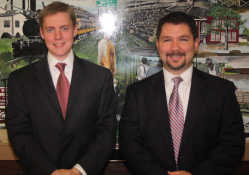 Jimmy Gazaway and David Boling, deputy prosecuting attorneys, Second Judicial District for Poinsett County, were the guest speakers at the Trumann Lions Club meeting Sept. 19.
Gazaway has been a deputy prosecuting attorney since 2008. He is a Paragould native and owns a private practice there. Gazaway has also been the city attorney for Trumann, Harrisburg and Weiner since 2009 and for Lepanto since 2010.
Responsible for felony prosecutions in Poinsett County, they prosecute murder, rape, burglary and theft (large sum) cases. They also handle misdemeanor cases in district court involving driving while intoxicated and traffic offenses. Hot checks are also handled out their office.
Gazaway said there are six district courts in Poinsett County: Trumann, Harrisburg, Lepanto, Tyronza, Marked Tree and Weiner.
Gazaway said they have also starting monitoring fine collections. In 2008 they collected over $153,000 in fines. In 2011, the first year they monitored payments, over $237,000 was collected. Collections in 2012 are on pace to be higher than last year.
There have been several jury trials in Poinsett County over the past few months. There have been two rape cases where 25 year sentences were handed out, a manufacturing of meth case with 50 years being given, double manslaughter with a 20 year sentence handed down, first degree battery case where an eight year sentence was given and the Jerry Lard case where the death penalty was handed out.
Gazaway explained the difference between a regular attorney and a prosecuting attorney. A regular attorney pursues the interest of the client to the full extent to get what the client wants. A prosecutor has to be fair, do the right thing and try to do justice.
"Jurors are an important part of the process," Gazaway said. Nobody likes doing it, but we need sensible people on our juries."
Gazaway ended by saying, "We need good people, sensible people to serve on the jury so we can have effective prosecution. If we don't have effective prosecution with the jury handing down good sentences, it doesn't matter how many arrests you make, what the Sheriff's Department or Trumann Police Department does, it's all for naught."
Boling briefly spoke telling he was a Jonesboro native and has been an attorney for four years. Before coming to the prosecutor's office, he worked as an attorney for the state involving foster care cases with the Department of Human Services.