Trumann FFA helps with field study
Thursday, September 27, 2012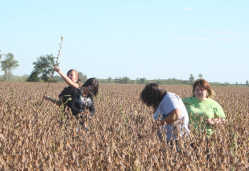 Trumann High School FFA students left the classroom and took to the fields last week. They trekked out across a soybean field on Wayne Gairhan's farm as part of a field study to learn about Monsanto's Genuity Roundup Ready 2 Yield trait.
"We're helping with a field study for Monsanto to try to get a count of four to five bean pods in the fields," said Trumann FFA teacher Adam Clairday. Students from his field science class participated, along students from other agri classes. "It's a way to expand the agri classroom and get an outdoor activity for them."
"The name of the game in agriculture is to get the most you can. Several years ago, Monsanto came up with Roundup Ready soybeans and boosted yields. Then, they came up with a new bean, boosting yields even more. So instead of getting two to three beans per pod, we're getting four to five. They're close to doubling the traditional yield," he said.
The students formed a pod patrol to look through the field for higher yields associated with Genuity Roundup Ready 2 Yield soybeans, picked robust-looking plants and sorted the beans by number of pods.
Morsoy seed brand agronomist Bradley Jackson said that with the new generation of soybeans, they were seeing increased seed size and four bean pods were becoming the norm rather than a bonus as they were in years past.