Marked Tree Delta Cotton Pickin' Jubilee Schedule
Thursday, September 27, 2012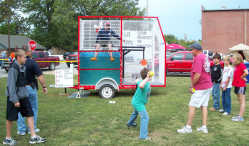 The annual Marked Tree Delta Cotton Pickin' Jubilee is scheduled for Saturday, Sept. 29. This is a schedule of events:
6 a.m. Pancake breakfast (Masonic Lodge).
7:30 a.m. Peggy Bankston Walk/Run registration.
8 a.m. Peggy Bankston Walk/Run (Marked Tree Rotary).
10 a.m. Welcome (Mayor Nichols, Marked Tree High ROTC),
arts and crafts, food booths open, pony rides (Three
Rivers Livestock), Petting Zoo (First Delta Bank),
helicopter rides, Loud Mouth Dunk Tank (Marked Tree Fire
Department).
11:30 a.m. Winner of Wheel of Fortune drawing announced
(Marked Tree Rotary).
Noon - Winner of $100 drawing announced (Friends of the
Library).
1:30 p.m. The New Solid Ground Gospel Group (Southern
Gospel Music).
2 p.m. Duck race (Marked Tree Booster Club).
3 p.m. Jacob Lung Band (Country/Rock).
5 p.m. 95.9 Country Legends Wolf Pack Band (Old Style
Country Music).
6 p.m. Meet and greet classmates, reunion of the Marked
Tree Indians (Marked Tree Cafeteria).
7 p.m. Riverside Band--Cotton Pickin' Community Dance;
bring a lawn chair and dance the night away to all your
favorites.