Dedman's Sanitation to take over Lepanto garbage pick-up
Thursday, September 27, 2012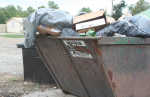 The Lepanto City Council decided last Thursday to accept a bid from Dedman's Sanitation to handle the city's trash pick-up. The acceptance of the bid is subject to approval of a written contract, which the council will review during a special meeting this Friday.
Dedman's Sanitation has been doing trash pick-up for Lepanto at an hourly rate since Delta Environmental closed on Sept. 1. Dedman's is owned by Jim Dedman, of Bay, and does trash pick-up for several rural communities including Tyronza, Payneway, Lake City and Caraway. Dedman said he has also been doing most of Trumann's commercial pick-up since Delta closed.
Subject to approval of the contract, rates are expected to go up to $14 a month for residential. The charge for two carts will be $19.
Dedman said once the contract is in place on Oct. 1, he will do pick-up on Tuesdays and Fridays. The town will be split in half at Woodland Street. Woodland and everything west will be picked up on Tuesdays. Everything east of Woodland will be picked up on Fridays.
In other business, the council heard from Tina Crockett regarding keeping the daycare running. Mayor Jernigan said the current owners of Giggles and Grins Learning Academy will be closing it on Sept. 28. Crockett has run Bright Beginnings Learning Center in Marked Tree for two and half years and wants to open a daycare in Lepanto in place of the one closing. Mayor Jernigan said that after an inspection of the building, the council could move forward with negotiation of a contract at next month's council meeting.
Several residents who live on Elm Street have petitioned to have the name of the street changed to honor William R. Hudgens, who passed away in late August. The council approved renaming the street to Bill Hudgens Street. Hudgens was an active member of the community who taught science at EPC High School for 41 years, served as organist and choir director for Lepanto United Methodist Church and participated in many civic organizations.
The council also heard from Larry Brewer, who called for action in enforcing ordinances against unsightly property.