Three Rivers participates in Walk to End Alzheimer's
Thursday, September 27, 2012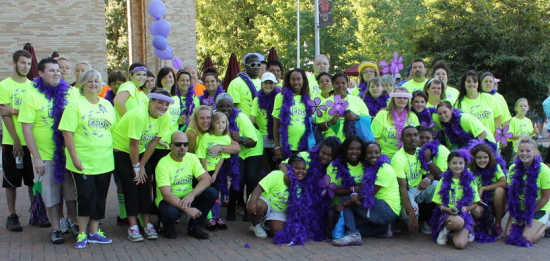 The Three Rivers Healthcare and Rehabilitation center sponsored the Walk to End Alzheimer's on Saturday, Sept. 8, in light of September being Alzheimer's Awareness month. The walk was held at Arkansas State University's Student Union in Jonesboro.
The Walk to End Alzheimer's supports the Alzheimer's Association's mission statement "To eliminate Alzheimer's disease through the advancement of research; to provide and enhance and support for all affected; and to reduce the risk of dementia through the promotion of brain health." The organization is nonprofit, and the walk requires no registration fee. Everything that is raised goes to Alzheimer's care, support, and research.
Sherry Pearce, marketing director for Three Rivers, chaired the walk with 30 teams and over 300 participants. "At Three Rivers, we see the devastating effects through caregivers. I wish they would have known more about the disease, and that's exactly what the walk was about," Pearce said.
Helping their team were the Methodist Youth Group, The Broken, of the First United Methodist Church in Marked Tree. Zachary Hatley, the teacher of the class and an employee at Three Rivers, promoted his students to get involved in the walk. "It's really touching to watch them show support for something and to work towards a completion of the organization's goal. We really wanted to reach out to everyone and welcome them to get involved with us." Most of them knew someone who suffered through the disease and wanted to show their support with the walk. Their goal as a class was to get involved and fellowship with each other through something that benefitted the community as a whole.
Three Rivers' team, with the help of the The Broken, were voted the best team spirit. As a team, they raised $5,600 to benefit the organization.
All together the walk raised $48,000 to go the Alzheimer's Association to help fund research and community awareness. Three Rivers plans to have another walk next year with the hopes of another good turn out. Persons wanting more information about next years walk may contact Sherry Pearce at (870)358-2432 or go to alz.org.