Jr. Wildcats' homecoming spoiled by Gosnell
Friday, October 5, 2012
The Gosnell Junior Pirates played spoilers as they came to Wildcat Field last Thursday and shutout the Junior Wildcats 44-0 on homecoming night.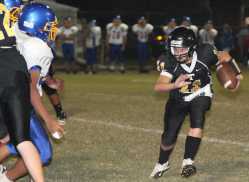 Trumann received the ball to open the game. The offense was was forced to punt and with Gosnell flagged for an unsportsmanlike conduct, Trumann got the ball back at midfield with 5:20 left in the opening quarter. Trumann was forced to punt again. The snap was bad causing Garrett Woods to fall on the ball and Gosnell took over at the Junior Wildcats 37-yard line. The Junior Pirates scored on a 37-yard run with 1:42 left in the quarter. Ethan Parker made a big stop on the two-point try leaving the score 6-0 Gosnell after the first quarter.
Gosnell added three more scores in the second quarter. A 31-yard run and two-point conversion made the score 14-0 with 7:23 left in the quarter. Gosnell scored on a 25-yard run and added the two-point try to make the score 22-0 with 3:28 left before half. Gosnell took a 30-0 lead to half as they scored again and added the two-point try with 1:28 left in the half.
Gosnell put the mercy rule into effect as they returned the kick off to start the second half 60 yards for the touchdown making the score 36-0.
An 11-yard run touchdown run and two-point play set the final score at 44-0 Gosnell.
Woods completed five of his six passes, all to Trey Moody, for 100 yards.
"All the guys are getting to play and they are learning. Woods and Moody played both had a good game tonight," Junior Wildcats coach Cody Wallis said after the game.