Marked Tree cruises to win
Friday, October 5, 2012
Marked Tree hosted the Timberwolves of Cedar Ridge in high school football action last Friday night. The Indians jumped on their visitors early on the way to a 42-12 victory.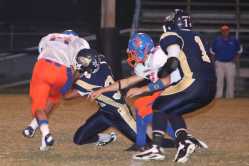 Darius Ivy got the Indians on the board after the Marked Tree defense forced Cedar Ridge to punt. Ivy took the ball in from 10 yards out with 8:57 left in the opening quarter. The extra-point was good giving the Indians a 7-0 lead. Cedar Ridge turned the ball over on downs as they went for it on fourth down on the Indians 17-yard line. Ivy struck again as he took the handoff up the middle before cutting left and then reversing field for an 82-yard touchdown run with 4:05 left in the quarter. The extra-point was no good setting the score at 13-0 Marked Tree.
Ivy opens the scoring in the second quarter going 11 yards for the touchdown with 11:19 left. Brody McCrary's two-point conversion pass to Bailey Gilbert made the score 21-0 Indians. After the teams traded interceptions, Ivy scooted 45-yards for his fourth touchdown of the first half. The extra-point was no good leaving the score 27-0 Marked Tree with 1:36 to go before half.
Cedar Ridge opened the second half with an onside kick but the ball didn't travel the necessary distance so Marked Tree took over on the Timberwolves 48-yard line. McCrary and the offense wasted little time as he completed a 48-yard touchdown pass to Dylan Hunt with 11:33 left to play in the quarter. Chris Montague added the two-point conversion to push the lead to 35-0 Marked Tree. Tevin McGee added the Indians final score on a 58-yard run with 6:08 left to play. The extra-point is good to extend the lead to 42-0.
Cedar Ridge got on the board with 9:04 left to play in the fourth quarter on a four-yard run. The Timberwolves scored again as time expired to set the final score.
Ivy led Marked Tree on the night with 167 yards rushing and four touchdowns. McGee and Hunt both had a touchdown for the Indians.
"We did a better job of executing tonight," Marked Tree coach Waylon Dunn said after the game. "It was good to get a lead and get all the kids in the game," Dunn added.