Schools act on new lunch regulations
Friday, October 5, 2012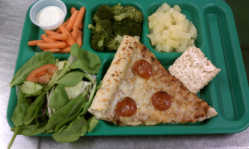 The U.s. Department of Agriculture(USDA) has set new nutrition standards for the breakfast and lunches that children eat at school. The new changes went into effect this year.
These standards include a restriction on calorie and meat intake, grain requirements, and an increase in fruit and vegetable intake.
For the high school students, the calories on the lunch tray must be between 750-850, with a weekly maximum of 12 ounces for meat or meat alternative. Half of all plates filled must be fruits and vegetables.
In relation to the old standards, the restriction on calories and meat intake has changed on a small scale. The minimum for calories was 825 with the maximum now being 850. The minimum for meat or meat alternative was set to 1.5-2.0 ounces, which resulted in about 10 ounces minimum per week.
The Northeast Arkansas School Nutrition Consortium (NEASNC) worked all through June and July-- their usual time off-- to prepare for this new update to school menus. NEASNC now meets once a month to network ideas and prepare a six week rotating menu that has to be certified by the state before it can be served.
With the majority of people being creatures of habit, the update has not been taken in a positive way. Directors of school nutrition everywhere are getting the personal blame, while doing all they can within the new nutrition guidelines. "I've heard of schools losing over 400 lunches a day over this--a day, not a week, but a day," says Dolores Sutterfield, the chair of NEASNC.
The new regulations make the menu a little more costly than usual, making it hard to lose student participation in school lunches.
"We are all trying to make the best of it and try new dishes with the vegetables that taste delicious, but the kids just won't try it," Sutterfield said. She is discouraged by the complaints she hears from the students, but feels the improvement will be beneficial in the long run.
The goal is for the students to take the diet home with them, which is exactly the case for some.
"I like the lunch better," said Josie Grimes, a senior at Trumann High School. "It has helped me to eat better at home, because I feel better eating healthy. It's just something to get used to."
Behind all of the healthmania towards school lunches is obesity. One-third of every child struggles with being overweight. The new standards are set to improve the health of the obese, as well as the two-thirds that are not. Sutterfield said the USDA and NEASNC have the best interest of the child in mind.