New physical therapist speaks to Trumann Rotary
Monday, October 8, 2012
Television, computers, an increase in technological innovations and a decrease in physical labor have made life easier for many people. But these innovations have also led to decreased activity for many people. Health problems, surgeries and sports injuries that are treated with physical therapy. Wayne Traylor, who started as physical therapist at the Trumann NEA Baptist Clinic in July, recently spoke to the Trumann Rotary Club about physical therapy and the importance of exercise.
Traylor said one of the big issues he deals with in physical therapy patients is lower back pain. "Eighty percent of people will have lower back issues in their lives," Traylor said. "A lot of problems can be prevented if people come in when they first have issues. We can prevent bigger problems down the line if we catch it early."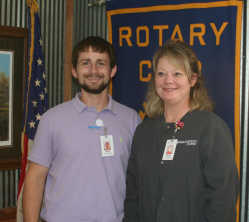 In addition to working with post-surgery patients, Traylor also does sports medicine, which is a big interest of his, orthopedics and works with people whose medical conditions have decreased their functioning. "We use heat, ice and general stretching," he said. "Just getting movement can help with pain." He said NEA Baptist Clinic also does home health people who qualify and are not able to go to the clinic, though he only handles physical therapy at the clinic.
Traylor also works with people on wellness and prevention. "You don't have to kill yourself when you exercise," he said. "Find a comfortable pace, something that gets your heart rate up. General fitness and cardiovascular health are important. It almost doesn't matter what exercise you're doing, but you have to enjoy it." He emphasized the importance of keeping to consistent exercise routine and mentioned that starting an exercise group with friends or just having an exercise partner helps people to keep that consistency. "A group or a partner is good because then you're held accountable."
Currently, NEA Baptist Clinic has 10 slots a day for 45 minute sessions for physical therapy sessions. Traylor will soon be joined by a physical therapy assistant, Carol Copeland, who starts on Oct. 8.
"I can do more when she comes," he said. "Right now, I evaluate and set plans for people, but I also like to be involved and get a visit in with them to find out if they're making progress. The more you see someone, the more you learn about them."
Traylor got his Bachelor of Science in Exercise Science from Arkansas State University and received his Doctorate of Physical Therapy from ASU in May. He is also a member of the American Physical Therapy Association.