Representative Crawford address Lions Club
Tuesday, October 9, 2012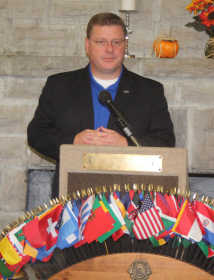 U.S. Representative Rick Crawford was guest speaker at the Trumann Lions Club weekly meeting on Sept 27. Crawford talked about the FUELS Act and the Farm Bill.
Crawford grew up in a military family and enlisted in the Army after his high school graduation. He served four years in the Army as a bomb disposal technician. Crawford, who earned the rank of Sergeant, earned numerous medals for his service in the United States and in Southwest Asia.
After his military service, Crawford attended Arkansas State University (ASU) where he graduated in 1996 with a BS in Agriculture Business and Economics.
In 2010, Crawford was elected to represent Arkansas's 1st Congressional District in Washington, D.C. Crawford became the first ASU graduate to serve in Congress.
He and his wife, Stacy, live in Jonesboro with their two children.
One of the first things he learned in Washington was the partisan divide. Crawford said, "It seems that was secondary to the geographical divide between the urban and rural districts as it's hard to find common ground with the urban district."
Crawford sponsored the Farmer's Undertake Environmental Land Stewardship (FUELS) Act that set limits on the fuel capacity a farmer could have to help prevent the risk of a leak. The FUELS Act passed both the committee and House without one opposing vote. The act is now in the Senate where the hope is it does just as well as it did in the House.
"The ideologies a lot of the time are as defined by geography as they are by politics and that's one of the toughest obstacles we face," Crawford said.
Speaking briefly about the Farm Bill, Crawford said it passed 35-11 in the committee but found it difficult as neither side wanted to take leadership in taking up the bill. Nutrition was the stopping point in the bill. One said said it cuts too much while the other side said it doesn't cut enough.
The bill is set to go to the floor in November after the election.