Junior Indians surge by Salem
Friday, October 12, 2012
Marked Tree's Junior Indians used a balanced offense to gain a 42-22 victory over the Salem Junior Greyhounds last Thursday in Marked Tree.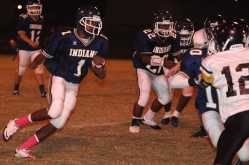 Salem opened the game by recovering the onside kick. Salem put together a nice drive that ended in a one-yard touchdown run with 3:40 left in the opening quarter. The two-point pass play made the score 8-0 Salem. The Indians put together a good drive as the quarter came to a close with Marked Tree on the Salem 10-yard line.
Blake Daniels put Marked Tree on the board with 7:25 left in the second quarter with a 10-yard touchdown run. DeAngelo Griffin added the two-point conversion run to tie the score at 8-8. Salem answered with a 10-yard touchdown run with 5:12 remaining. The two-point conversion was good making the score 16-8. Griffin took the following kick-off back 77-yards for a touchdown to make the score 16-14 with 4:53 left in the second quarter. Jaleel Lott was stopped on the two-point play. The game was delayed for about 45 minutes in the second quarter due to the Salem quarterback taking a hit to the head. He was transported to a local hospital for concussion type symptoms. Daniels hit Griffin with a 38-yard touchdown pass at the second quarter ended to put Marked Tree up 20-16. Griffin was stopped on the two-point as the teams went to the break.
The Junior Indians opened the third quarter scoring on 31-yard pass play from Daniels to Lott with 6:00 left in the quarter. Griffin added the two-point run for a 28-16 Marked Tree lead. Salem fumbled the following kick-off return with the Junior Indians recovering. Griffin took a quick pass from Daniels and went 57-yards for a touchdown with 5:16 remaining in the third. The two-point play was no good leaving the score 34-16. Salem cut into the lead with a 28-yard rushing touchdown with 3:48 left in the third quarter. The two-point try was no good setting the score at 34-22.
Griffin set the final score as he scored on 53-yard run before running in the two-point try making the score 42-22.
Griffin finished with 134 yards rushing, 188 yards receiving and four touchdowns. Daniels added 47 yards rushing and a touchdown. Lott rushed for 30 yards and had 62 yards receiving on the night. Daniels threw for 250 yards and two touchdowns.
"We played hard tonight," Marked Tree coach Derek Drewitt said after the game. "We executed and flew to the football," Drewitt added.