Thousands brave rain and cold for 82nd annual Terrapin Derby
Friday, October 12, 2012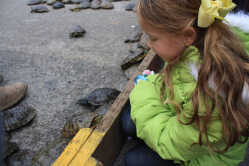 Despite rain and cool weather, Lepanto hosted the 82nd annual Terrapin Derby on Saturday, Oct. 6. The Terrapin Derby is Arkansas' oldest continuous festival, beginning in 1930 with the American Legion as the sponsor.
In Lepanto, the American Legion was charted in 1929 located in an old log building. According to Mayor Steve Jernigan, a fire in the building caused the Legion to begin looking for new fundraisers.
According to Jernigan, his father, Coleman Jernigan, had stopped for gas on a trip in Oklahoma when he noticed a crowd of people. Curious, he went on to ask what was going on that attracted so much attention. "It turned out to be a crowd of people betting on how high a couple of toads could jump," Jernigan said.
Jernigan brought this idea home with him as a fundraiser for the new building. Although Lepanto did not have any toads, Little River had plenty of turtles to race thus beginning the Terrapin Derby.
Originally the festival was set for the fall of every year due to it being harvest time for the cotton. "That's when the money was coming in. They wanted to do it when people had more money," Jernigan said.
In the late 1970s, the Legion turned the Derby over to the Lepanto museum. The fire department now sponsors the event that attracts from 6,000 to 10,000 people a year.
This year's Grand Marshal was Jack Foote, a retired member of the fire department. He served the department for 20 years, with 14 of them as chief.
"It means a lot to support the Terrapin Derby, and to support the fire department," Foote said. "They are a good group of boys."