Second Johnny Cash Music Festival draws young and old alike
Saturday, October 13, 2012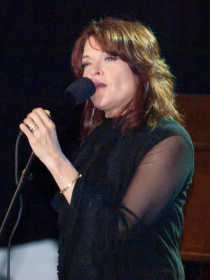 The second annual Johnny Cash Music Festival at the ASU Convocation Center in Jonesboro proved to be a whopping success Friday evening, despite chilling temperatures and a steady downpour of rain.
Fans and supporters came early and stayed late to enjoy the fantastic slate of musical entertainment. Last year's event enabled ASU to acquire the boyhood home of Johnny Cash in Dyess, Ark. The proceeds from this year's benefit will make it possible to open the homestead for regional, national and international visitors by the fall of 2013.
Rosanne Cash, the oldest of the five Cash children, hosted the event and opened the program at 7 p.m. by singing several familiar Cash favorites. Those included "I Still Miss Someone," "Seven Year Ache," "Long Black Veil," "Delia's Gone," "I Don't Know Why You Don't Love Me," and she closed with "Tennessee Flat Top Box." She sang several songs from what she called "The List," which was compiled by her and her father while touring on a concert road trip.
Excerpts from PBD documentaries on the life of Johnny Cash and personal Cash videos were shown on four large screens during set changes at the concert. One video depicted Johnny Cash telling how he slept at the seed house at the cotton gin during harvest season and how much he loved to listen to music on his battery-operated radio while growing up. It showed a video of his return to his home place as an adult and him giving his family a tour of the town he grew up in, stopping to visit with people along the way that he recognized. Cash stopped to pick a stalk of cotton when he visited his boyhood home.
"This festival would have meant a lot to my father," Rosanne Cash said. "I don't get involved in a lot of things dealing with stories, books, movies and such about my father, but I want to be a part of this festival."
Rosanne Cash introduced the first two recipients of ASU's Johnny Cash Scholarship, Heather Myres and Ryan LaRue.
Living legend and longtime Cash family friend Willie Nelson flew in from Maui to take part in the festival. He sang "Whiskey River," "Hello Walls," "Night Life," "Crazy," "Good Hearted Woman," and closed with a crowd favorite "Roll Me Up And Smoke Me When I Die."
Singer-songwriters Joy Williams and John Paul White make up the Grammy Award-winning duo called Civil Wars. They sang "Barton Hollow," "Poison & Wine," and "Safe & Sound," which originally featured Taylor Swift.
Country music artist Dierks Bentley closed the show with a bang, as he sang several hits, which included "Every Mile A Memory," "Long Trip Alone," "Country Boy," and "Up On The Ridge."
Following the concert, Rosanne Cash called her aunt, Joanne Cash Yates, and uncle, Tommy Cash, on stage for a closing sing-a-long rendition of "Picking Time."
"We raised about $200,000 from Friday's concert, but the exact count is not in as yet," said Bill Carter, executive producer. "We had a full house but not quite a sellout. The crowd loved the show and we had a diverse crowd of young adults, students and regulars and everyone loved all the artists. Of course they liked Rosanne and Willie but I didn't know what they would think of the younger artists. Dierks Bentley had young and old women alike up dancing and screaming during his performance. Everyone loved him. I was also very impressed with how the audience responded favorably to the Civil Wars duo."
"Since most of the expenses of the festival were covered by sponsors, this allows the majority of the proceeds from the show to go directly to the restoration project," said Dr. Ruth Hawkins, Dyess/Johnny Cash Restoration Project Director. "I was extremely gratified by the audience reactions to this year's concert. I think everyone loved the music and the Johnny Cash videos. I hope we can continue to keep the event fresh and exciting, with something new and different each year."
Following the concert, Mike Chojnacki, of Jonesboro, provided a wide range of photos from the festival on his Facebook site called "Mike's Music News."
"I hope to announce the 2013 Johnny Cash Music Festival lineup of artists soon," Carter said. "We see this continuing for many years to come."