New Goodwill location offers career center
Monday, October 15, 2012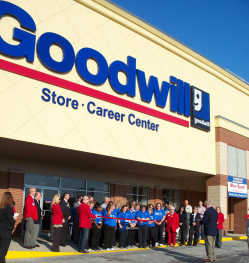 The Jonesboro Goodwill's move to a new location last week at 1515 S. Caraway Road will not only mean more room on the sales. The 18,000-square foot new location, which is triple the size of the old store, also features a career center which will offer job training and career counseling. It's the first career center Goodwill has opened in Northeast Arkansas.
"One of the biggest reasons to seek out a new center was that we had no career center," said Leisa Wamsley, vice president of Donated Goods.
The career center not only offers computers people can use to apply for jobs but also has a full time career specialist to work with people on how to approach finding a job.
"They go over how to do a resume, how to dress, how to interview," Wamsley said. "One thing we find, even when we're interviewing job applicants, is people don't know how to even approach finding a job."
The career specialist will help with all the details people may not realize are involved in finding a job and will follow up with them afterwards.
Brian Itzkowitz, Goodwill president and CEO, estimated that 600 people will come through the career center this year. Last year, Goodwill opened eight career centers across the state, served 6,500 people and placed 1,100 people into employment. The Jonesboro career center is the 10th.
All the career center services are offered free of charge and are supported from revenues generated by the store.
"Donation is the most important thing the community can do to support us," Wamsley said. "Revenues support the career center."
Wamsley added that Goodwill's motto is "Donate, shop, change a life," and it accepts everything except large appliances and mattresses.
"I think this location will draw from the entire area of Northeast Arkansas," she said.