Fleming retires after 66 years
Tuesday, October 16, 2012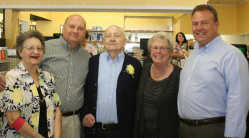 After serving the community of Marked Tree for 66 years, Richard Fleming was honored at a retirement celebration at John and Frank Pharmacy. Mayor Wayne Nichols and current owner of John and Frank Pharmacy, Joe Roach, both read proclamations in Fleming's honor and thanked him for his work both in the pharmacy and in the community.
Fleming started working at the pharmacy in August 1946 after serving in the U.S. Army for two-and-a-half years in Okinawa, Japan.
Fleming said retiring "will be a relief and it won't be a relief. I'll just miss everybody." He added that the thing he enjoyed most was meeting people and seeing different generations come and go through the pharmacy.
He and his wife, Matti, have one son, Trent, and five grandchildren. He was a Scoutmaster for 20 years and received the Silver Beaver award from the Eastern Arkansas Council of the Boy Scouts in 1978, the highest award the council can bestow on an individual. He was an American Legion adjutant, member of the Civil Defense and REACT unit in Marked Tree, member of the Band Booster Club and a Little League Baseball manager.