Cedar Park Elementary celebrates International Walk to School Day
Wednesday, October 17, 2012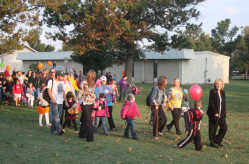 Cedar Park Elementary School joined schools from around the world Oct. 3 to celebrate International Walk to School Day.
Approximately 140 students walked to school along with parents, teachers and community leaders. Sheila Walters, Mayor of Trumann, also participated in the walk.
The event began at 7:15 a.m. with kids, parents and community leaders having a grab and go breakfast before the walk from the Public Library to Cedar Park Elementary.
In 2011, International Walk to School Day was celebrated at more than 4,000 schools across the United States, along with children and adults in 40 countries around the world.
Walk to School Day events raise awareness of the need to create safer routes for walking and bicycling and emphasize the importance of issues such as increasing physical activity among children, pedestrian safety, traffic congestion and concern for the environment. The events build connections between families, schools and the broader community.
Stakeholders in the community collaborated to develop the Safe Routes to School Plan. The Trumann Partnership for Safe and Healthy Children and Youth meets three times each year to identify needs of children and youth in the community, barriers and resources. Members of this partnership include school personnel, the mayor, fire chief, police chief, police, sheriff, service providers, high school students, business leaders and other members of the community. Through this partnership, the need for sidewalks was discussed. City and school personnel researched possible funding sources and decided to apply for funding through Safe Routes to School Program.