Gay Willie Roach, Sr.
Monday, October 15, 2012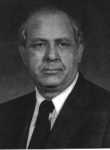 Mr. Gay Willie Roach, Sr. 86, of Trumann, died Friday, Oct. 12, 2012 at the family residence. He was born Feb. 9, 1926 in Cherry Valley, Ark., Mr. Roach was founder of Roach Manufacturing in Trumann, veteran of the U.S. Army and World War II and a member of the First Baptist Church. He was preceded in death by son-in-law, Charlie Parks, one brother, Wyllie Roach, three sisters, Leslie Roach Lockley, Agnes Roach Martin and Lillian Roach Smith and his parents, James Hampton and Lydia Casey Roach.
He is survived by two daughters, Margaret G. Parks of Trumann, and Nandra Roach of Trumann; three sons, Gary Roach (Grayson) of Little Rock, Gay W. Roach Jr., (Kathy) of Trumann, and Mike Roach (Charlotte) of Trumann. 16 grandchildren, 32 great-grandchildren and 5 great-great-grandchildren.
Funeral service will be Oct. 16 at 10:00 a.m. at the First Baptist Church in Trumann, with Dr. Tad Rogers officiating. Burial will follow in the Jonesboro Memorial Park Cemetery in Jonesboro, Ark., under the direction of Thompson Funeral Home in Trumann.
Pallbearers will be Sonny Parrish, Gilbert Wiley, Allen Milligan, Bob Barker, Gayle Grimes, Bob Wacaster, Rusty Wacaster, Keith Long, Darrel Dodd and Edsel Kent.
Visitation will be Monday from 5:00 p.m. until 7:00 p.m. at the First Baptist Church, 1301 Highway 69 West, Trumann, Ark., 72472.
An online register book can be signed at www.thompsonfuneralhome.net.