NEAT transit system answers need for rural transit
Sunday, October 21, 2012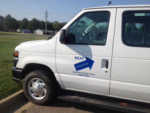 A new rural transit system launched operations this month to offer public transport in six counties in Northeast Arkansas, including Poinsett County.
The North East Arkansas Transit system (NEAT) started operating on Oct. 1 in Poinsett, Craighead, Cross, St. Francis, Crittenden and Mississippi Counties to meet the need for public transport in rural areas.
The system was launched by the Crowley's Ridge Development Council "because Northeast Arkansas had a real need for rural transportation," said Kera Crafton, chief operating officer for Crowley's Ridge Development Council/North East Arkansas Transit. "A couple of cities had urban transportation, and there's rural transportation for the north and south area of Northeast Arkansas. In the middle part of Northeast Arkansas was a gap for rural transportation."
The service, which is available to all residents of rural areas, was funded with a grant from the Arkansas Highway and Transportation Department. "There's a misconception that it's just for medical situations, but it's not," Crafton said. "It can be used for a variety of things. It's not restricted to a specific use. There are no income guidelines." Two examples she gave were using it to get to classes at ASU or to work if a person's car broke down.
Transportation services are from 7 a.m. to 5 p.m. Monday through Friday and can be used for various destinations ranging from shopping, medical, employment, public services, education and others. Roundtrips originating in Poinsett County cities range from $14-$30 depending on the desitination. Trips with starting and ending points in the same town are $2 one-way.
"One example is if someone needs to go to grocery store, we have curb to curb service. We'll pick you up at the curb outside your house and take you to the store. When you're done shopping, you can call when you're ready for pickup," Crafton said. She added that the system could be used for multiple stops in the same city as well.
Customers should call 24 hours in advance so that NEAT can schedule drivers or make specific accomodations for passengers if necessary.
Since the program started, Crafton said they have already seen many people make use the system. "We feel like there's a real need for it," she said. They hope to expand to Jackson and Woodruff counties in the spring.
For more information or fare schedules, call 1-866-336-3691 or 870-932-0836. Fare schedules are also available online at http://www.crdcnea.com/view/north-east-arkansas-transit-neat. No income guidelines exist for the program. Eligible participants are customers living in rural areas needing transportation services.