Marked Tree students host poetry slam
Saturday, October 20, 2012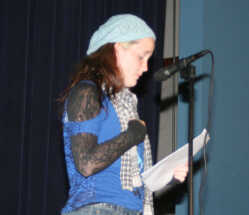 Several Marked Tree 10th graders put on the school's first annual Poetry Slam Monday night, featuring poems they wrote especially for the event.
The poetry slam was the culminating project of a unit taught by English teacher Jim Mayers. Mayers said he designed the poetry unit as a way to teach the students about figurative language elements and basic literary terms.
"Poetry lends itself really well to learning those terms," Mayers said. While his students spent four weeks reading and analyzing poetry, Mayers noticed that many of them were writing their own poetry. When Mayers was a student, his school held a lot of poetry slams, so he decided it would be a fun event to bring to Marked Tree.
"It's a way for the students to take pride in their own poetry," he said. "There's a lot of excitement. The kids got really into it because it's not just for a grade, but it's something to be performed before an audience."
Fifteen students participated in the poetry slam, braving the stage to read their poems live before an enthusiastic audience of friends and teachers. Mayers himself even performed a poem to kick things off.
One student, Kelsey Pitts, said the experience of reading onstage was nerve-wracking, but she was relieved at the sound of the cheering when she finished. "It felt good to hear that everyone liked it and thought it was good," she said.
Another student, Hunter Pitts, said he didn't want to read his poem at first because most of the other poems were about love while his was about zombies, a poem he decided to write after the premier of season 3 of The Walking Dead. He read his poem last to finish out the night, reading the poem off his phone. "I might do something like this again if I get better at public speaking," he said.
Mayers said students breezed through the test at the end of the poetry unit because working on long form poems for the event made it easier for them to learn the figurative elements of language than memorizing definitions would have. "They took the test and said it was a breeze because the concepts were so ingrained in them. The arc of the project and the enduring understanding created in producing something for a culminating event helps the kids understand concepts a lot better."
Poetry slams are typically competitive events, but this one was not. The goal of this event was to celebrate the students' work, though a poetry club has evolved out of the project, so there is a possibility that Marked Tree High School may host some competitive slams in the future.
Students who participated in this week's poetry slam include: Zach Baskins, Holly Smith, Rebecca Prather, Lanetra Williams, Dezy Reel, Octavious Dean, Roy Mitchell, Veronica Rivera, Kelsey Pitts and Hunter Pitts. Kambria Marshall, Diana Harris, Charlie Pevy and Lexi Perry prerecording their poetry readings for the event.