Petting zoo at Fair Haven Farms
Friday, October 19, 2012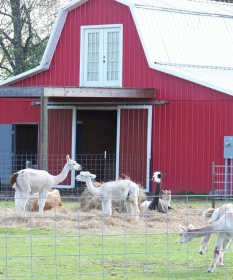 Fair Haven Farms will be having a Barn Boo event on Saturday, Oct. 20, from 3-5:30 p.m. on 16750 North Ozark Avenue in Trumann.
The farm usually participates in other festivities around the area. This will be the first petting zoo at the actual farm.
"We are normally a part of other local events around the area. We have several we are scheduled for this year, but we also decided to do our own thing," Jason Mullins said.
Mullins along with his wife, Tabithia, started the farm in 2010 with a few dogs and ducks. The farm now houses over a hundred animals which include pigs, raccoons, horses, chickens, ducks, and a lamb named Daisy.
Fair Haven Farms has traveled around to local schools, libraries, nursing homes, civic groups and educational events over the past two years. This year, the farm has participated in the duck festival, as well as various other occasions in the area. Mullins said they will soon be going to Trumann Cedar Park Elementary for the kindergarten and third grade students. Fair Haven usually takes only a small group of the animals when traveling for events.
"Our own event will be all access--like the zoo--with all of the animals," said Mullins.
The Barn Boo will include an outdoor movie, a donkey impersonation contest, rooster crowing contest, and more. The admission fee will be $1 per person, which covers availability to all activities. All proceeds are used for the extensive care of the animals.
Persons wanting more information may contact Jason Mullins at (870)483-5077 or go to the Fair Haven Farms facebook page.