Alexander is guest at Trumann Lions Club
Monday, October 22, 2012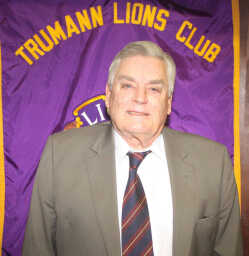 Former U.S. House of Representative of Arkansas's First District, Bill Alexander, was the guest speaker at the Trumann Lions Club weekly meeting on Oct. 10.
"It's really heart warming to come home and be with the people you care about," Alexander said.
Alexander was born in Memphis. He graduated from Osceola High School in 1951. Alexander attended the University of Arkansas before receiving his bachelor of art degree from Rhodes College in Memphis. In 1960 Alexander received his law degree from Vanderbilt University Law School.
Elected to the Congress from the First District of Arkansas, Alexander served 24 years in Congress. A member of the Democratic Leadership for 22 years, he reached the level of Chief Deputy Majority Whip.
Alexander talked about his times on the appropriations committee and some of the bills that came up and monies that were added at the last minute before being passed. He spoke about the deficit, who created it, what's being done to help control it. He talked about the need to build up instead of tearing down thinking that will help.
"We have to have cooperation, and right now it's in a deplorable situation," Alexander added. "We must have a voice in Washington for Arkansas, and right now we don't have one."
Alexander finished his speech by quoting Daniel Webster, "Build up the resources of this great land, promote it's power, build up and serve its institutions and then look back someday to see if you've done something worthwhile to be remembered."
Alexander lives in Northern Virginia on his ranch with wife Debi and son Alex, 20, and daughter Ashley, 15. Still a practicing attorney, Alexander works everyday at Alexander and Associates in Washington.