Collins emphasizes importance of self-exams in catching breast cancer early
Tuesday, October 30, 2012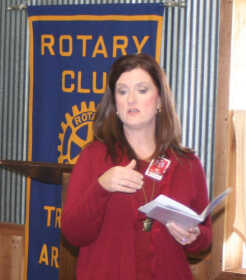 When it comes to knowing what to look for in Breast Self Exams, knowledge is power, if people use it. That's what Dee Collins, Care Navigator at St. Bernard's Imaging Center tells people, tells people to emphasize the importance of regular examinations to ensure good breast health.
Collins recently spoke at the Trumann Rotary Club as part of Breast Cancer Awareness Month. She said more American women are diagnosed with breast cancer each year than any other cancer with the exception of skin cancer and that for women, cancer deaths are second only lung cancer.
Collins recommended women do self-exams once a month and get a clinical breast exam every three years. After 40, women should have a clinical exam and mammogram every year. "The only way to notice a change is to looking and feeling," she said. "How often do we see our doctor? Your doctor doesn't see you as often as you do in the mirror."
She also noted that it is important to do self exams because a mammogram may turn up nothing, but a lump might appear a few months later. And if a physician doesn't mention breast exams, "bring it up," she said.
Collins added that the two big risks for breast cancer that no one can change are being female and getting older. "The older you get, your risk goes up, regardless of whether you have it in your family," she said. "At ages 40, 50 and 60 there are big steps up in risk until 85 when it levels off."
Collins said people's risk of breast cancer can be reduced by adopting healthy behaviors such as maintaining a healthy weight, eating fruits, vegetables, and grains, exercising, limiting alcohol intake and choosing to breastfeed one's children, if possible.
"It's never too late to adopt healthy behaviors," she said. "The more you do self exams, the common things will feel to you. You are symmetrical. The more you know what's normal for you, the better off you are. You'll notice a change. If it's lumpy on one side, check the other."
Collins also highlighted the importance of spreading the word about the importance of doing self exams. "Encourage those around you, your wives, girlfriends and children. And not just in October," Collins said. "You can say what you want, but I've had more women say their husband found it. If that's what it takes, do it. I have to give bad news to too many."
Though it's much less common, it is also possible for men to get breast cancer. Collins said that St. Bernard's Imaging Center, in addition to offering screening services to women, does mammograms for men too.
St. Bernard's Mobile Imaging Center also offers counseling, genetic testing and has its mobile mammogram unit out in the surrounding communities. And for those who can't afford services, they have a Susan Komen Grant to help out.
"You've just to set a priority," Collins said. "Knowledge is power, if we use it. If I know it and don't do anything, what good is it to know?"