Schmidt honored with mountain expedition
Friday, October 26, 2012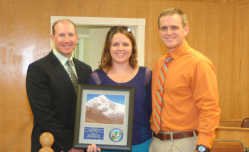 Representatives of Cops on Top were in Trumann this week to meet with the family of Officer Jonathan Schmidt following a climbing expedition earlier this year in Schmidt's honor.
Cops on Top is a group a volunteer climbers, mostly made of of law enforcement officers, who organize climbing expeditions in honor of fallen officers. Schmidt was killed last year at a traffic stop in Trumann. Troy Bacon, of the Frankfort Police Department in Indiana, and Chuck Porter, of the Denver Police Department in Colorado, met with Schmidt's family and members of the Trumann Police to talk about the climb for Schmidt in January up Mount Aconcagua in Argentina.
Bacon and Porter were part of an eight member team that set out on the expedition to take a plaque in Schmidt's honor to the summit of the 22,841-foot mountain, the tallest in the Americas. Bacon said that he had previously been on an expedition on Aconcagua in 2009 to honor another fallen officer, but he was forced to turn back during that expedition due to altitude sickness.
"Even if one member of the team makes it, it's still a success," Bacon said. "But turning back, you're on the walk of shame. It's a long walk." Bacon hiked Mount McKinley the next year and learned from the mistakes he made on Aconcagua, so that he was ready to face that peak again during the 2012 expedition for Schmidt.
Bacon said that after Schmidt was chosen as the fallen officer to be honored, the expedition became meaningful. "Once there's a name for an expedition, it's got meaning now. It's for someone," he said. "Every step of the trip was about Jonathan."
It took the team about 15 days to reach the summit. All but Bacon and Porter were forced to turn back at different points along the climb due to altitude sickness or reaching their limits. The two endured rain, sleet, snow and wind that had them sleeping with their backs to the tent sides to keep it from blowing over, but during the summit day on Jan. 25 the weather cleared up.
"I was so energized," Bacon said. "Everything felt right. I'd been there before, and it didn't feel right. This time, everything was clicking. Chuck and I were on the same page the whole expedition."
When they made it to the summit, Bacon said it was one of the most beautiful days he's seen. "I personally felt Jonathan was there. It was a beautiful day. If he had something to do with it, then thank you," he said.
He and Porter both said they cried at the top, reflected on Schmidt and said a prayer for him.
"This was my first expedition in honor of an individual," Porter said. "I was deeply moved by what Jonathan had done and by being able to do something for your community and for Jonathan. It was quite an honor."
Schmidt's family thanked and hugged them. "God bless you for what you did," said Donald Schmidt, Jonathan's father.
In addition to Bacon and Porter, the team for the expedition consisted of Ryan Hunt with the Mesa Police Department in Arizona, Nelson Grant with the Flathead Sheriff's Office in Montana, Paul Hermans with the Peoria Police Department in Arizona, Joshua Wiseman with the Portland Police Department in Maine, Bob Gabrych with the Surprise Police Department in Arizona and Norman Simmons with the Seqium Police Department in Washington.
Cops on Top was founded in 1999 by Captain Keith McPheeters of the Farmington, New Mexico, Police Department. McPheeters was a member of the 1998 task force that searched the four-corners region for the killers of Colorado Police Officer Dale Claxton, the largest manhunt of its kind in American history. McPheeters organized Cops on Top as a way to honor fallen officers, starting with Claxton.