Dulaney talks basketball with Lions
Wednesday, October 31, 2012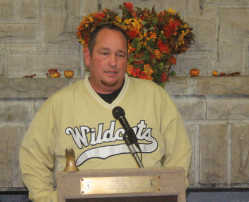 Skip Dulaney, head basketball coach at Trumann High School, was the guest speaker of the Trumann Lions Club Wednesday, Oct. 17.
Dulaney is entering his sixth season at Trumann and thanked Joe Waleszonia for giving him a chance at Trumann.
Dulaney said superintendent Myra Graham gives tremendous support to the team as does the entire town. The team went 4-20 during his first year and folks were down on him but the high school team has won 40 games over the last two seasons.
Tim Lamb will be the junior high coach for Trumann this year. Lamb comes to Trumann from Nettleton after having gone to Arkansas Tech on a basketball scholarship before receiving his degree from Arkansas State.
"He will be good for us," Dulaney said.
Dulaney returns one starer from last year's squad in 6'5" post player Nate Maxwell. Dulaney said, "Nate is not only a good athlete, but a great kid. He is unselfish and helps the team out in any way needed." Seniors Jacob Brumley, Cameron Jones, Denzel Brown and Quan Lawless look to see significant playing time. Part time starter A.J. Winnigham and Westen Gilliam, both juniors, will contribute as well. Sophomores Grayson Dye, Dalton Carter and Willie Moore will help out also.
With 18 participating in off season and another six to eight coming from the football team, Dulaney said he will have depth this year.
Participation still needs to be up in all grades according to Dulaney. He said the seventh grade group coming up are a talented group.
"We like to get up and down the court and push the ball," Dulaney said. "We will shoot the three too."
Trumann opens at home Monday, Nov. 19, with Weiner and then hosts Bay the next night.
"Come and out watch us play," Dulaney said in finishing.