NHS volunteers at community events
Sunday, November 4, 2012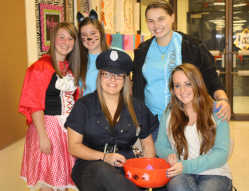 Members of the Trumann High School Chapter of National Honor Society are volunteering throughout the community. The National Honor Society is a prestigious national organization that includes members from the 10th, 11th, and 12th grades.
In order to be a member, students must meet required standards in four areas of evaluation: scholarship, leadership, service, and character. A committee of five appointed faculty members select the students each May to serve in the National Honor Society in the upcoming year.
The Trumann chapter has set high standards for their students. For the scholarship criterion, students must have attended one semester at Trumann High School and have a cumulative grade point average of 3.0 or better.
Students eligible by the scholarship criteria are then evaluated on their leadership and service skills. They must complete a Student Activity Information Form to provide the committee with a history of their leadership experiences and participation in school or community service.
The character of the candidate is carefully considered by the five faculty members. First, they review the applicants school disciplinary records. The committee, also, requires references from other faculty members regarding their professional reflections on a candidate's service activities, character, and leadership.
This year, the Trumann High School NHS has been involved in serving the Trumann faculty breakfast at the beginning of school and helping with the "Stuff the Bus" drive at Walmart at the beginning of school.
"Our officers are looking at community service events to do throughout the year, as well," said Shannon Bruner, Trumann High School librarian and chapter advisor.
Recently, NHS was involved in the Trumann Cedar Park Fall Festival. Members either wore their NHS shirts or a costume for the event to show spirit.
"It was a really great and rewarding opportunity to help the teachers and faculty," said Julia McRee, a member of the National Honor Society.
Currently, the National Honor Society is having a pumpkin decorating contest in order to raise money for the chapter. The pumpkins are displayed in the High School Library costing $.50 per vote. The winner will receive a prize consisting of a basket of goods.