Trumann Health and Rehab holds first family reunion
Monday, November 5, 2012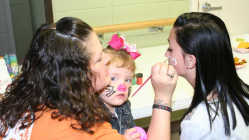 When the staff at Trumann Health and Rehab decided they wanted to have some type of festival this year, they knew they did not want to call it a fall festival. They wanted something more intimate to fit the company slogan "family caring for families."
"Our residents are like family, so we decided to have a family reunion," said Dot Sammons, LPN, head of admissions.
All the residents' families, all the staff's families and former residents and their families were invited to Trumann Health and Rehab's first family reunion last Saturday.
Around 150 people showed up at the beginning of the event. Entertainment included music by the Country Legends Wolf Pack Band, the Empty Pockets Band, various games, face painting, and a photo booth for family pictures, all provided at no cost to residents and families.
Sammons is also culture change coordinator for the facility. She said the reunion is part of an attempt to give Trumann Health and Rehab a more home-like atmosphere. "There has been a nationwide culture change movement the last few years," she said. "People live here, so it needs to be more home-like. I wouldn't want to live in a hospital for the rest of my life, and they don't either. There's a shift happening in the healthcare industry to make things more home-like."
Home-like changes include things like changing the name of the lobby to living room and having a dog live at onsite as a pet.
"This reunion will get families into the building to see the culture change," Sammons said.
She added that the reunion was a good chance to get family members in who don't visit often. "I've been here for eight years, and I've gotten to meet family members I've never met before," she said.
When the Arkansas Foundation for Medical Care wanted to start its culture change program, Trumann Health and Rehab was chosen as one of eleven nursing homes in the state to participate.