Judge Hunter visits with Lions Club
Tuesday, November 6, 2012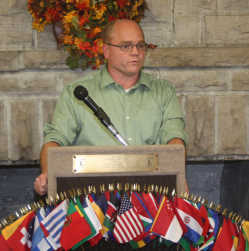 Judge Ron Hunter was the quest speaker at the Trumann Lions Club weekly meeting Wednesday, Oct. 24.
"Can anyone name the last three judges who served prior to Ron Hunter," was the question asked before Judge Hunter was introduced to the group. Lots of names where mentioned and the crowd was told the question would be answered during Hunter's talk.
A magna cum laude graduate of Arkansas State University and graduate of the University of Arkansas at Little Rock Law School, he has practiced law in Poinsett County since 1993.
Hunter is married to the former Shelly Edwards of Harrisburg and has four children, Sarah, Andrew, Katie and Alaina.
"I appreciate being here and also being the district judge of Poinsett County," Hunter said in opening. The three judges before him were Henry Wilson, Burk Dabney and Jim Dunlap.
Hunter talked about the three-tier judicial system, appellate, circuit and district courts. Dealing mostly with traffic or safety cases, Hunter spends about half this time visiting with prisoners. He sets their bond and conditions of the bonds. If it turns to be a felony matter the case is turned over to the prosecutor.
Amendment 80 gives the district judges a little more authority in helping with things that normally the circuit judge handles, according to Hunter. Hunter can sign documents to help in cases that in the past would have to wait until the circuit judge was in town.
"Court is about justice, not money," Hunter said but did mention that 80 percent of the money in the judicial system statewide comes from the district courts.
Recidivism, repeat violation of offenses, is a huge problem according to Hunter. Hunter said after he sees a person for the second and third time he won't see them for a while because Chief Deputy Kevin Molder will take care of them for a time. Hunter said he doesn't send people to the penitentiary, the county jail is as far as he can send them.
Hunter said he's asked a lot what it takes to be a good judge. "I use to say it takes a lot of smarts but after 20 years I tell them you have to be able to stand up to people," Hunter said.
Hunter closed in saying, "I have a little phrase beside where I shave that says 'you are here to help' and that's what I try to do everyday."