Veteran shares history
Saturday, November 10, 2012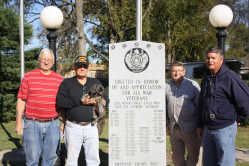 Ron Taylor, a veteran of Trumann, shared his thoughts on the subject of war in light of upcoming Veterans Day. Taylor was a part of the 1st Marines Division 1st Recon Battalion from 1969 until 1975 when he received Honorable Discharge in 1975.
"My job was to go out and find the enemy," said Taylor. "Most of the time, it was the other way around."
Taylor spent 13 months in Vietnam with 36 recon missions. Of those 36 recon missions, for 22 of them, Taylor made contact with the enemy. For his first two missions, Taylor said he was a radio operator until the point man for his unit suffered the effects of war. The lieutenant came up to Taylor afterwards to ask where he was from, to which he replied Arkansas.
"He pointed out that we do a lot of hunting and fishing in Arkansas," said Taylor. "I agreed, and he said I would be his new point man."
Taylor was the point man for his unit for 11 months, until the lieutenant rotated back to the U.S. Taylor was then appointed as team leader.
"I read every book I could to try and understand why we were sent to Vietnam," said Taylor. "It was a brutal war, and we lost a lot of good people and good men."
Taylor has 24 of his friends on the Vietnam Veterans Memorial wall in Washington, D.C. He said that these friends were like his brothers and are always in his memory.
Taylor gave history on George W. White in remembrance of this fellow veteran. He spoke with admiration of White's numerous awards and medals.
"He was a highly decorated officer with seven bronze stars for his actions during World War II," Taylor said."You have to do something extraordinary to get one, and this guy had seven."
Taylor went on to explain White's position as the driver for a half-track truck in the Army. The truck was designed to pull a large cannon, and hold two ordinance men along with White. According to Taylor, White traveled to France, Rhineland, Central Europe, and Ardennes where he was stationed for long periods of time. Taylor said that this late veteran gave so much to his country, and should be recognized for his actions.
"I'm not going to give any details about the war," said Taylor. "I hate war, but sometimes it is a necessary evil."
Currently, Taylor is serving as the Commander of the American Legion, post 42. The American Legion works on Veterans' projects and sponsors groups such as the boy scouts and cub scouts.