Gosset is first Trumann veteran to be buried in Birdeye
Sunday, November 11, 2012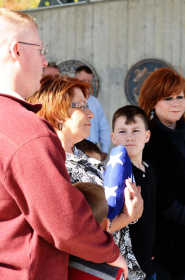 The late David Gossett of Trumann served in the military for 16 years as a field artillery officer. In his memory, a service to honor him as a veteran was held on Friday, Nov. 2, at the Arkansas State Veterans Cemetery--Birdeye.
David Gossett had lived in Trumann most of his life. He was a field artillery officer, and worked for central command in the U.S. Army.
Gossett spent three tours in Vietnam, and received numerous medals before retiring home to his family. At the service, Gossett was described by family members as loyal to his family, community, and country.
"He was one of the most patriotic, and God fearing people that you could every meet," said Mike Gossett, his son.
Mike Gossett, currently serving in the U.S. Army, spoke of the military as a way of life and a sense of duty. He said that his father had always had a saying that he lived by: "You do not take anything from the country you haven't given something."
Gossett and others who attended the ceremony admired the location and beauty of the service. Dayna Gossett, daughter of David Gossett, said that it was important for people to know about the veterans cemetery and what it offers.
"It is a beautiful place, and a lot of people are not aware that it is there because it is so new," said Ron Taylor, a veteran of Trumann and close friend of David Gossett.
The Arkansas State Veterans Cemetery opened about six months ago on May 4. The Arkansas Department of Veterans Affairs operates the cemetery to commemorate the military service of deceased veterans.
Birdeye is one of the two state cemeteries that serve as a final resting place for veterans, their spouses and eligible dependents. The cost of burial and a headstone are free of charge to veterans.
"They will rest where the sunrise quickly dries the dew and where the sunset, because of Crowley's Ridge, shades the afternnoon heat. It's a magnificent place," Governor Mike Beebe said at the opening ceremony.
David Gossett is the first person from Trumann to be buried at the cemetery which is located east of Cherry Valley and north east of Wynne at 3600 Highway 163 in Birdeye.