Mom takes care of soldier
Monday, November 12, 2012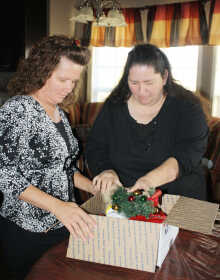 Sadie Hisaw of Trumann has organized Operation Help a Soldier in light of her own son serving away from home in Afghanistan. This is Hisaw's first year organizing the operation, which takes time and research.
Hisaw's son, Specialist Ryan Herod of Trumann, is currently serving for the 1039th Army National Guard, Combat Engineer Unit of Harrisburg. The unit consists of 100 soldiers that will be serving for nine months in Afghanistan. Herod was born and raised in Trumann, and has been a member of the military since he was 17.
"It just breaks my heart that some of them never receive anything from anyone," said Hisaw. "I want to send some of home to all of them."
With the help of Becky Holmes, a family friend from Paragould, Hisaw has been able to expand Operation Help a Soldier. She has set up boxes at certain locations throughout the area including: Focus Adult Development Center, Bakers Lumber Co., Trumann Drug, Dollar General, and the Trumann City Hall.
From experience, Hisaw said that each box is about $80 with all of the standard care package items. Food items are packed separately from personal care items in case of spills. She encourages people to do all they can in order to help the soldiers.
"I'm sure that they feel forgotten sometimes, and I just want to let them know that we are all thinking about them during the holidays," said Hisaw.
The deadline for the boxes to be shipped is the first week of December. Hisaw will be collecting care package items until the last day of November.
Hisaw suggests the following care package items be sent to the soldiers of the 1039th Army National Guard Combat Engineer: Hot Hands heat packages, tube socks (all sizes), ankle socks (all sizes), wet wipes, lip balm, lotion, foot powder, toothpaste, toothbrushes, razors, shaving creme (gel only, no spray cans), cough drops, dental picks, shampoo, body wash, snacks, powder gatorade, sports illustrated magazines, beef jerky, candy, deodorant (solid or gel, no spray cans) and a note card to give them thanks.
Persons wanting more information on Operation Help a Soldier may contact Sadie Hisaw at (870)284-4635.