Covered wagon trip raises breast cancer awareness
Tuesday, November 13, 2012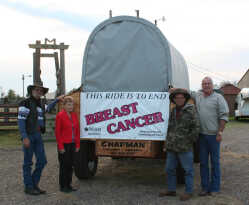 Two men are on the road to end breast cancer, and they're making the trip by horse-drawn covered wagon.
E.L. Smith and Chuck France of Miami, Okla., passed through Trumann last week as part of a 1,658-mile trip across Missouri, to Memphis, New Orleans, Houston and back to Oklahoma. Smith said he thinks the trip will take three to four months to complete.
Along the way, they are making new friends, meeting with cancer survivors and raising money on behalf of the Freeman Foundation to benefit the Helping Friends Mammogram Fund. The fund provides mammograms for underinsured and uninsured women.
Smith credited God with giving him the health to make this trip. "I'm doing what God's telling me to do to help my brothers and sisters," Smith said. "God will bless you if you look out for your neighbor. And neighbor doesn't just mean the person next door. If He can give us grace, why can't we give our neighbors grace?"
Smith said that part of the reason he and France chose breast cancer awareness as a cause was that their lives had both been touched by breast cancer. Smith's ex-wife is a five survivor and France lost his wife to breast.
"If we can beat breast cancer, we can beat all the others too," Smith said. "It's killing our women folk because they can't get in and get checked."
He added that along the way they had met many breast cancer survivors, including three men and a 17-year-old girl. "If we can get each person to send one dollar a piece, if all of Trumann donated, that's over $6,000. It can make a difference," he said.
"This ain't no luxury vacation," Smith said. "We sleep and eat in this wagon. This is our home right now. We won't be home for Thanksgiving. We won't be home for Christmas."
And though they had originally planned on pulling over into roadside ditches at night to sleep, people have them a place to park their wagon and take care of their horses every step of the way. The two ended up at Dennis Morgan's ranch for the night when they stopped in Trumann last week.
"We didn't arrange this," France said. "When we left, we just stepped out on faith. It's just been God providing for us and people calling people. We haven't spent a night on the side of the road yet."
Donations can be made by contacting the Freeman Foundation at 417-347-1111 or by mail at 1102 West 32nd Street, Joplin, Mo. 67804. Donations can also be sent through E.L. Smith, who can be contacted at 918-541-5428, or by mail at 11151 South 540 Road, Miami, Okla. 74354.