Marked Tree Council vote fails to reinstate police chief
Tuesday, November 13, 2012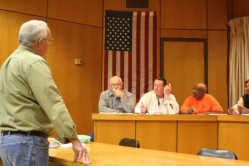 The Marked Tree courtroom was packed with concerned citizens Monday night as former Marked Tree Police Chief Chester Ford addressed the city council regarding his firing by the mayor last month. Though several council members wanted Ford reinstated, they failed to get the two-thirds vote required to do so.
During committee reports at the October council meeting, Ford had said that the police department was understaffed and asked to address the council about hiring another officer. Mayor Wayne Nichols told him they would discuss the matter the next day. "The Tuesday following the meeting, I was unjustly fired by the mayor," Ford said.
After Ford was terminated, Mayor Nichols initially said it had been a mutual agreement. "When the newspaper called, I said Chester was no longer with us and that it was a mutual agreement," Nichols said. "I probably made a mistake in trying to make a soft landing. I didn't want to embarass anybody. I apologize."
Mayor Nichols said the firing stemmed from a discussion over the number of police officers that has been going on for a year and a half. "We've had six officers in the past," Nichols said. "There were eight when I came onboard. We (Ford and I) tried to work together the last few years, but we do not agree on the number of officers we can afford."
When the council came out of executive session to vote on reinstating Ford with back pay, Steve Craig, Shane Glenn, Danny Johnson, Cleo Johnson Jr. and Jerry Jones voted in favor of the reinstatement. Michael Scott and Mary Smith abstained from voting. The final position on the council is currently vacant. Shirley Moore resigned from the position last month due to health reasons and recently passed away. Her position has not yet been filled. The measure did not pass because six out of eight votes were required. City Clerk Pam Wright said she checked with the Municipal League and that they confirmed the two-thirds vote required is based on the total number of council positions even though one is currently unfilled.
The full story will appear in the Nov. 15 edition of the Poinsett County Democrat Tribune.