Seventh Grade Wildcats complete perfect season
Friday, November 16, 2012
The seventh grade football team at Trumann capped off a perfect season with their win over Highland at the end of October. Their record was 7-0.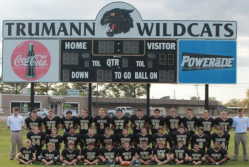 Coach Cody Wallis had this to say about the group, "The toughest game of the season was against the Gosnell Pirates. Gosnell had an outstanding running back who really tested our defense with his quickness and physicality. The team really had to step it up that game and we knew afterwards that we had a chance to have a really special season. We also had our toughness tested against Highland in the season finale. They had a good running back as well, along with huge lineman they loved to run the fullback dive with. Highland battled us all night but our boys made a lot of big plays throughout the game to give us the win. We're expecting big things out of this group of seventh graders for the next two years in junior high and to help us get back in the playoffs in a few years when they're in senior high. They have been reminded how quickly you can go from 7-0 to 0-7 and they know the amount of work they're going to have to put in these next few years to stay on top."
Team members included Micheal Smith, Kevin Blagg, Cade Gartman, Dakota Craig, Issac Haynie, Ty Lindsey, Koltan Jones, J.J. Riley, Kaleb Keizer, Darrell Williams, Drake Evans, Derrick Johnson, Willie Hanna, Slash Ross, Kevin Dunhoo, Jesse Barnes, Robert Barnes, Ryan Broadway, Cody Hendrix, Michael Crist, Patrick Johnson, John Dunham, Jarred Carter, Chase Cook, Preston Heavener, Rives Henderson, Byron Hill, Jackson Lowery, Kyle Bell, Chris Fairbanks, Johnathan Haynes, Nacho Zuniga, Tony James, Payton Hill and Dakota Howard.
Coaches were Wallis, Scott Brown, Carter Harbuck, Greg White and Billy Carter.