Youth group grants wish for Hindman
Friday, November 16, 2012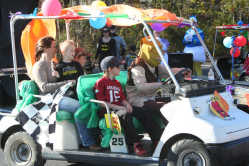 The youth of Pleasant Hill Baptist Church in Harrisburg granted a wish to Trey Hindman, age 5, on Saturday, Nov. 3.
Hindman was born with hypoplastic left heart syndrome, a rare congenital heart defect in which the left side of the heart is severely underdeveloped. After several heart surgeries, Hindman received a heart transplant early in the year.
Pleasant Hill Baptist Church discovered Hindman through the Make-A-Wish foundation. Without ever meeting him, the youth of the church set forth on a journey to raise enough money to sponsor his wish.
"In order to grant a wish, you have to raise $5,000 dollars," said Kim Lamb, former youth leader of PHBC.
It took the church about a year and a half of fundraising in order to raise the money to make Hindman's wish come true. The youth did various services from raking leaves to having a yard sale in order to fund-raise.
Along with the youth, two volunteers were assigned to Hindman's wish-- Ann Taylor and Mariana Rizzo. Taylor said that their job was to find out the wish of the child, and communicate back and forth between the family and sponsor.
"Most people think that when Make-A-Wish comes, the child is terminal," said Taylor. "That is not the case."
In order for a wish to be granted, the child must have a life threatening medical condition such as Hindman's. The physician of the child must also concure with the wish. Hindman's wish was to go to disney world to see spiderman.
In order to tell Hindman his wish had been granted, the youth of PHBC invited him to a derby at the church. This portion of granting a wish is referred to as the enhancement. Taylor had informed them early on that Hindman loved Cars and Shrek, the movies.
PHBC youth gathered golf carts and decorated them to look like race cars for the enhancement of Hindman's wish. Various cartoon characters raced around the painted track with partners except Shrek.
The youth prepared a skit in which Shrek was looking for a partner, and chose Trey out of the audience. After winning the race, Trey was escorted with his family inside of the fellowship hall of the church to recieve his Piston Cup, a replica of the trophy in Cars.
After much applause for Hindman and the characters in the race, Lamb told five year old Hindman that his wish to go to Disney world had been granted.
"It was amazing," said Tabatha Hindman, Trey's mother. "I have been hiding my excitement because he had no idea."
Along with the trip, the church organized backpacks for their travels for Hindman and his two older brothers.
"It was an amazing experience," said Kaitlyn Nugent, youth director of Pleasant Hill Baptist Chruch. "I was very honored to be a part of it."