North East Arkansas Transit celebrates services with open house
Monday, November 19, 2012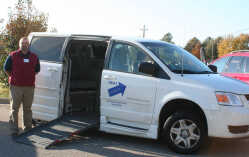 Donnie McMillan of the Arkansas State Highway and Transportation Department recently told attendants of an open house for North East Arkansas Transit that he was proud NEAT had accomplished their goal of bringing cheap rural transport to Northeast Arkansas in the hope of improving the lives of the disadvantaged and disabled while saving them money. "I believe we've been successful. This is the first time in recent history that rural transit has been available to everyone," he said.
McMillan was the keynote speaker at the event for NEAT, a rural transit system Crowley's Ridge Development Council launched Oct. 1 and offers public transport to people in rural areas of Northeast Arkansas like Poinsett County. McMillan said he almost lost a leg years ago and that he knew what it was like to lose mobility. "Those people in your area who don't have the support I did, they depend on you (NEAT)," he said.
McMillan added that the need for public transit in Northeast Arkansas will not go away. "Many people will prefer public transport. We're seeing those trends in bigger cities, but those trends will eventually come to Arkansas," he said. McMillan pledged that the ASHTD would do their part to make the effort a success.
Attendants also heard from Katherine Blanks, a Crittenden County resident who uses the transit system. "I'm very excited. Other transit services are very expensive," Blanks said. One thing she liked about NEAT is that they offer curb pick-up. "With buses, some people cannot make it to a bus stop. NEAT picks you up in front of your house."
NEAT offers rural transportation for residents of Poinsett, Craighead, Crittenden, Cross, Mississippi and St. Francis Counties. The service was funded with a grant from the Arkansas Highway and Transportation Department and offers transit for any use including shopping, employment, school and medical appointments.
Kevin Glover, who is one of the drivers for NEAT, said one of the great things about the service is that trips within the same city are $2 one-way. "I told one lady that, and she ended up making four stops. It only cost her $8," he said. Glover said the system currently has six vans and has another six coming. All the vans are handicap accessible.
Customers should call 24 hours in advance so that NEAT can schedule drivers or make specific accommodations for passengers if necessary. Roundtrips originating in Poinsett County cities range from $14-$30 depending on the destination. NEAT's hours of operation are 7 a.m. to 5 p.m. Monday through Friday.
For more information or fare schedules, call 1-866-336-3691 or 870-932-0836. Fare schedules are also available online at http://www.crdcnea.com/view/north-east-arkansas-transit-neat. No income guidelines exist for the program. Eligible participants are customers living in rural areas needing transportation services.