Lions hear update on new hospital
Sunday, November 18, 2012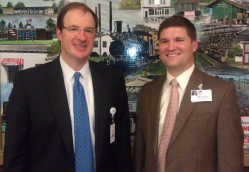 Brad Parsons, CEO of Baptist Memorial Hospital, and Darrell King, CEO NEA Baptist Clinic, were guest speakers at the Trumann Lions Club weekly meeting Wednesday, Nov. 7.
"We like to be interactive," Parsons opened by saying. Parsons talked about Baptist Memorial celebrating 100 years of care for the Mid-south this year. The original hospital was built in 1912 when the three Southern Baptist Conventions in Arkansas, Mississippi and Tennessee built a 150-bed facility in Memphis. The hospital was founded on the mission of the three-fold ministry of Christ -- to heal, to preach and to teach. Today, there are 14 hospitals over three states.
Parsons also said NEA Clinic is celebrating 35 years of serving Northeast Arkansas.
Dr. Ray Hall founded the NEA Clinic in 1977. His vision was to have a place where a patient could have all procedures done.
In 2010, the clinic partnered with the Baptist organization, thus changing the name to NEA Baptist Clinic.
The clinic in Jonesboro has 100 physicians on staff who specialize in 35 different areas. They see 1,400 patients a day.
King spoke of things NEA Clinic is proud of. The new electronic health records will help with patients' records at any facility. King spoke of community minded focus, helping in all areas especially charitable programs.
Finally he spoke briefly about Hope Circle. Hope Circle is an education and support program for cancer patients.
Parsons gleamed when he talked about the new hospital. The six-story, earthquake-resistant hospital being built is the largest construction project in the state. The new hospital will open up 400 new jobs, the clinic will create 130 new employment opportunities and 35 new doctors will be hired over the next two years.
A 34,000 square-foot cancer center is being built which will house Hope Circle. Hope Circle is a support group for cancer patients that helps provides needs of the patients.
The question of traffic flow was brought up in the question and answer segment. One question was about the traffic flow, especially down Stadium Drive. Parsons said there is a possibility of a bypass being built in the future. The bypass would begin possibly around Nestle Road or Commerce Drive and loop around Jonesboro and come out at the Farville curve.