Bennie Edsel Bibb
Friday, November 16, 2012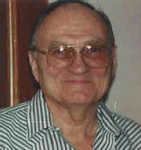 TRUMANN - Mr. Bennie Edsel Bibb, of Trumann, died Sunday, Nov. 4, 2012, at Trumann Health & Rehabilitation at the age of 84 years, two months, and five days. He was born Aug. 30, 1928 in Trumann to the late W.A. and Thelma Moore Bibb. Mr. Bibb was owner of Bibb's Western Wear in Trumann, a former school teacher, basketball and football coach, a fan of St. Louis Cardinals, veteran of the U.S. Air Force and Korean War, and a member of the First Baptist Church.
He was preceded in death by his wife, Esta Lee Wells Bibb.
He is survived by one sister, Diane Bibb Karnes, and husband Bill of Plano, Texas.
All services will be private.
Memorials may be made to First Baptist Church, P.O. Box 575, Trumann, Ark. 72472 or to Trumann School Alumni Association.
An online register book can be signed at www.thompsonfuneralhome.net.