Charlotte Kay Townsend Owen
Friday, November 16, 2012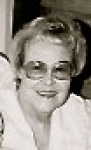 Charlotte Kay Townsend Owen, a former resident of Marked Tree, Ark., and Marks, Miss., died Oct. 27, 2012, at Hospice Home Care inpatient in Little Rock, Ark. The only child of the late Ethel Pratt and Dr. Charles Kennard Townsend of Arkadelphia, Ark., was born July 4, 1927.
Charlotte graduated from Arkadelphia High School, attended Stephens College, and the University of Arkansas where she was a Pi Beta Phi the year it was awarded the Balfour Cup for the best chapter in the nation. She was proud to be a Golden Arrow. She graduated from Arkansas State College with a Bachelor of Science in Education majoring in elementary education and a Master of Education in administration from the University of Mississippi.
She married Charles Russell Owen on Dec. 23, 1946, lived in Knoxville, Tenn., and Fayetteville, Ark., until they moved to Marked Tree in 1949, where they raised three children until they moved to Marks, Miss., in 1964. They were married for 49 years until Mr. Owen's death in 1995.
While in Arkansas, Mrs. Owen was the youngest DAR Arkansas regent in the country in 1953. She was a Cub Scout den mother, Brownie and Girl Scout leader, Methodist Youth Fellowship (MYF) leader, member of the Methodist church choir, and the choreographer for many of "Miss Gladys'" musical productions. She was also an elementary teacher in Marked Tree.
In Mississippi, she taught elementary school and was instrumental in establishing County Day School (grades 1--4) in 1965, where she served as a teacher and principal. In 1967, the school grew to include grades 1--8. In 1969, she became the elementary principal when the school became Delta Academy where she served in this capacity until 1975. She also taught at Coahoma County Junior College.
She was a member of the Marks United Methodist Church and choir. She served as an officer of the Mississippi Private School Association and served on the accreditation board. She also was a member of the professional education society, Delta Kappa Gamma.
She is survived by children, Charles Russell "Russ" Owen, Jr. of Marks, Miss.; Roxanne Owen Wallace of Hattiesburg, Miss.; Maryscott "Scotti" Owen Glasgow of Little Rock; sons-in-law, Brent Wallace and Dennis Glasgow; grandchildren, Catherine Barron of Little Rock; Adam Wallace of Hattiesburg; Scott Owen Wallace of Hattiesburg; Charles Townsend Healy of Conway; great-grandchildren, Jackson and Owen Barron; step-grandchildren, Amy Glasgow Mitchell and Blake Glasgow; step-great-grandchildren, Grant, Nicholas and Harrison Mitchell, and Richard and Miriam Glasgow, all of Little Rock; sister-in-law, Tommye Owen Sparks and her husband, Rev. Joe Sparks; two nieces, Linda Payne and Tommye Baldwin; one nephew, Ross Sparks; special and dear friends, Bill Pendergrass, David and Holly Brazille, Dorothy Baker, Shirley Champion, Sherry Pierce, Ruby Jean Boxley, Zach Hatley, Delores Woods, Tammy Turner, Carol Foster Nutt, Hill Blaylock, Jr., Dorothy Baker, Robert McGill, Mary Smith and Brother Ron, and Henry Barringer, and a host of family and friends who played special roles in her life and gave her family much needed support.
Special thanks and great appreciation go to the staff at Three Rivers Rehab and Nursing Center in Marked Tree, the outstanding staff of Odyssey Hospice Care, and to Dr. Morgan Sauer and his excellent, caring staff of Hospice Home Care on Bowman Road in Little Rock.
Arrangements are by Gross Funeral Home of Hot Springs. A private memorial service will be held at Mt. Carmel Cemetery on Lake Hamilton in Hot Spring.
Memorial contributions can be made to C.A.R.E, Heifer International, Disabled Veterans of America, or Arkansas Alpha Chapter of Pi Beta Phi.
Guest register available at www.grossfuneralhome.com.