Marjorie E. Morgan
Wednesday, November 21, 2012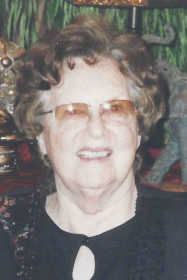 WEST MEMPHIS - Mrs. Marjorie E. Morgan, 88, of West Memphis, Ark., passed away Monday, Nov. 12, 2012, at the Crittenden Memorial Hospital in West Memphis, Ark. She was born in Marked Tree, to the late W.A. and Liza Gammill Morgan. Mrs. Morgan lived most of her life in Trumann where she and her husband owned and operated Little Pigs BBQ restaurant until they sold it and moved to West Memphis. She worked in cosmetics at Lowenstein's downtown for 10 years and credit department at Goldsmiths downtown for 10 years. She was preceded in death by her husband J.P. Morgan, one grandson, Dewayne Grant, her parents, three brothers, and three sisters.
She is survived by her beloved daughter, Andralyn Angie Morgan Grant of West Memphis; one son, Dennis Morgan (Paula) of Trumann; two grandsons, Jan Morgan (Sherry) and Taylor Morgan (Jenny) both of Trumann; and five great-grandchildren, Jordan, Jana Kai, Savannah, Jay Taylor, and Caroline Morgan, all of Trumann.
Funeral services were Nov. 16 at Roller Citizens Funeral Home Chapel in West Memphis with Dr. Tad Rogers officiating. Burial followed in Crittenden Memorial Park Cemetery in West Memphis.
Pallbearers were Dennis Morgan, Jan Morgan, Taylor Morgan, Scotty Taylor, David Thompson, and Joe Larkins.
Honorary pallbearers were Joe Waleszonia, Lynn Greenwell, Jim Wallace, Willie Ed Bullock, Dalton Whitt, Jordan Morgan, and John Meadows.
Online registry: www.rollerfuneralhomes.com in West Memphis.