Volunteers get ready for holidays
Saturday, November 24, 2012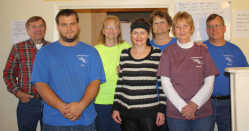 The Trumann Food Pantry is serving an average of 450 families per month this year with about 1,090 people total.
Director Jeanne Johnson encourages the community to donate to the pantry in light of the upcoming holidays. "We are dependent upon donations and volunteers," said Johnson.
The pantry is serving, on average, 25 new families per month with the numbers rising. Johnson said that each family is only served once per calendar month.
The Trumann Food Pantry also offers a Homebound Program for those who are physically unable to leave their homes. In this program, the volunteers are take a box of food to participants at their homes once a month.
Johnson said that the biggest portion of the food pantry is the volunteer's care and commitment. "On Tuesdays and Fridays, we are usually working from 8 in the morning to a little after 2," said Johnson. "Also, anytime we have a message to go pickup donations, we do that."
The volunteers are available for donation pickups of any size.
Recently, the Trumann schools held food drives in order to help the food pantry. Trumann High School took the drive to a new level with a "That Turkey has Class" competition. Grades 9 through 12 brought food in order to add feathers to their grade's turkey. The turkey with the most feathers won the competition.
"It's a great incentive for the kids to donate," said Johnson. "Aside from that, we get most of our food from the Feeding America Program."
The Trumann Food Pantry partners with the foodbank of Northeast Arkansas, which is also dependent upon donations from communities. Johnson said the volunteers of the programs work many hours out of the week just because of their care for the families in need.