McWayne talkes parent center with Rotary
Sunday, November 25, 2012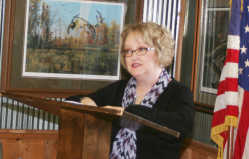 Though Patti McWayne has worked with Trumann School District for 21 years, this is the first year she has filled the position of Parent Center Coordinator. McWayne told the Trumann Rotary Club recently that part of her job was to make parents feel more comfortable. "The more comfortable they are, the more active they become in their child's education," she said.
The Parent Center, located at 119 North Magnolia Drive, offers parents activities they can do with their children to help with problems they may be having in school. The Enrichment Prescription Program sends kids home with a card noting skills they need more practice in. Then, McWayne works with parents to suggest activities that can help their children improve.
The center also has three computers available to parents.
"Parents are always welcome to use the computers," McWayne said.
She told of one parent, just out of the military, who had no computer access and came to the Parent Center to set up an e-mail address and register for college.
In addition to offering activities for parents to do with their kids, the center has a lending library of parenting books, games and DVDs that can be checked out. The center also puts together activities throughout the year that encourage parents to get involved in the school such as the Boohoo Yahoo Breakfast, Grandparents Day, Eat with Someone Special Day, Family Book Fair Nights and the Wildcat Dad program where men sign up to volunteer to help out at the school for a day as well as to be an extra set of eyes to make it a safer place.
McWayne said that some future activities she has planned include Family Math and Literacy Nights and parenting classes in December.
"I have a lot of parents coming in to find out how to help their child," McWayne said. "I love my job. It's important to have your parents involved. If the parents are interested in education, then the students will be too. That's our future. We want them to be as smart as they can be."
The Parent Center is funded by Title 1 funds.