ASU Community Ringers to perform in Tyronza
Monday, November 26, 2012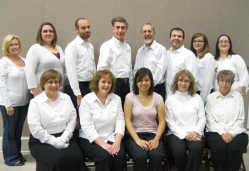 The Arkansas State University Community Ringers, a handbell choir directed by Dr. Ellis Julien, emeritus professor of music, will present their annual ChristmasConcert at the Tyronza First Baptist Church on Sunday, at 5:30 p.m. Dec. 2. The concert is open to the general public and a free-will offering will be taken to help defray expenses. The church is located at 244 Main Street at Tyronza.
Under the direction of its founder and conductor, Dr.Ellis Julien, the ASU Ringers have presented unique and inspiring Christmas and Spring Concerts to regional audiences since 1985. In addition to ringing these concerts and well over a hundred other concerts throughout Arkansas and in eleven southern and mid-western states, the Ringers were honored to receivean invitation to perform for the National Convention of the American Guild of English Handbell Ringers in 2010. Last year Dr. Julien relinquished his position in order to enjoy a year of full retirement. Brian Henkelmann, temporary instructor of piano at ASU and organist at the First United Methodist Church of Jonesboro, capably led the ensemble on an interim basis. This fall Dr. Julien has resumed direction of the Ringers and has reorganized it as a community bell choir under the auspices of Arkansas State University, hence the name change to the ASU Community Ringers.
In order to emphasize the new "community" aspect of theensemble, Dr. Julien sought to change the rehearsal venue from the university campus to a local church that already had a designated handbell rehearsal room. This eliminated many hours of setup time and encouraged broader participation. As an expression of its community outreach ministry Cornerstone United Methodist Church of Jonesboro graciously invited the Ringers to use their facilities. Rehearsals began in September. Current membership includes nine former members of the ASU Ringers plusfive new members from Jonesboro and the surrounding area. Rehearsals are on Thursday evenings from 7-9 p.m. and new Ringers will be welcomed to join in January. Former bell ringing experience is not essential, but the ability to read music is important. For more information contact the ASU Music Department: 870-972-2094.
This year's Christmas Concert will feature a wide variety of familiar seasonal music. Included will be "O
Come, All Ye Faithful", arranged by Douglas Wagner; "OLittle Town of Bethlehem", arranged by Judy Phillips; "Masters in this Hall" and "Carol of the Bells", arranged by Arnold Sherman; "The Holly and the Ivy", arranged by Patricia Sanders; "Pat-a-Pan", arranged by Gregory Pysh; "Still, Still, Still", arranged by Cathy Moklebust; and "Ding, Dong, Merrily on High", and "A la Nanita Nana", arranged by Fred Gramann.
Members of the choir include: Rebecca Bleakly (Rector),Mylie Brown (Jonesboro), Amy Dennis (Hardy), Dr. David Gilmore (Jonesboro), Dr. Diane Gilmore (Jonesboro), Dawn Gregory (Walnut Ridge), Ashley Hall (Jonesboro), Jennifer Hall (Tyronza), Karon Henick (Harrisburg), Ben Light (Jonesboro), Kathy Proctor (Jonesboro), Brenda Rupard (Harrisburg), Tommy Russell (Jonesboro), and U Yin Tan (Kuala Lumpur, Malaysia).